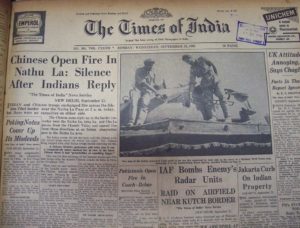 Between April and September 1965, while the Indo Pak war was being fought, many attempts were made by China to engage India in battle on the Tibet Watershed at Nathu La Pass (the only entry to Sikkim from Tibet). The most provocative of these attempts occurred on the night on 21st – 22nd September 1965 at 0200 hrs when the PLA attacked Indian posts at Nathu La & two other mountain passes, from Chumbi valley. Defending Nathu La was an Indian Army battalion commanded by (then) Lt Colonel Eustace D'Souza, which repulsed this & many subsequent attempts by the Chinese to enter Sikkim.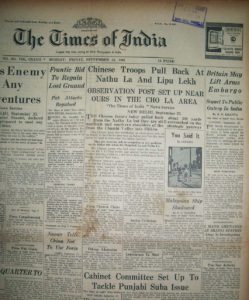 These attempted intrusions by China caught the attention of the international media who saw in them a serious threat to world peace. While The Times London headline on 18th September 1965 read "China's Warning", Germany's Die Presse of 4th October 1965 carried a four part series entitled "Asia on the verge of big war". So intense was the tension on the border that US News & World dispatched a correspondent to Nathu Lla who filed his story on 01 November 1965 entitled "Looking into the Chinese Gun from a distance of 25 feet" (Eyewitness story). The media was all praise for the Indian soldiers & the best tribute to our troops and their young commander Lt Colonel Eustace D'Souza, was carried in The Statesman on 30 September 1965 based on the visit to Nathu La by GH Jansen, who wrote: "This then was the exact spot where the very tip of the spearheads of two immense forces, India and China, clashed….At Nathu La for two days running, India & China, eyeball to eyeball, had tried to outstare each other; and it was the Chinese eyelid that had blinked: the first time since 1962 that this had happened."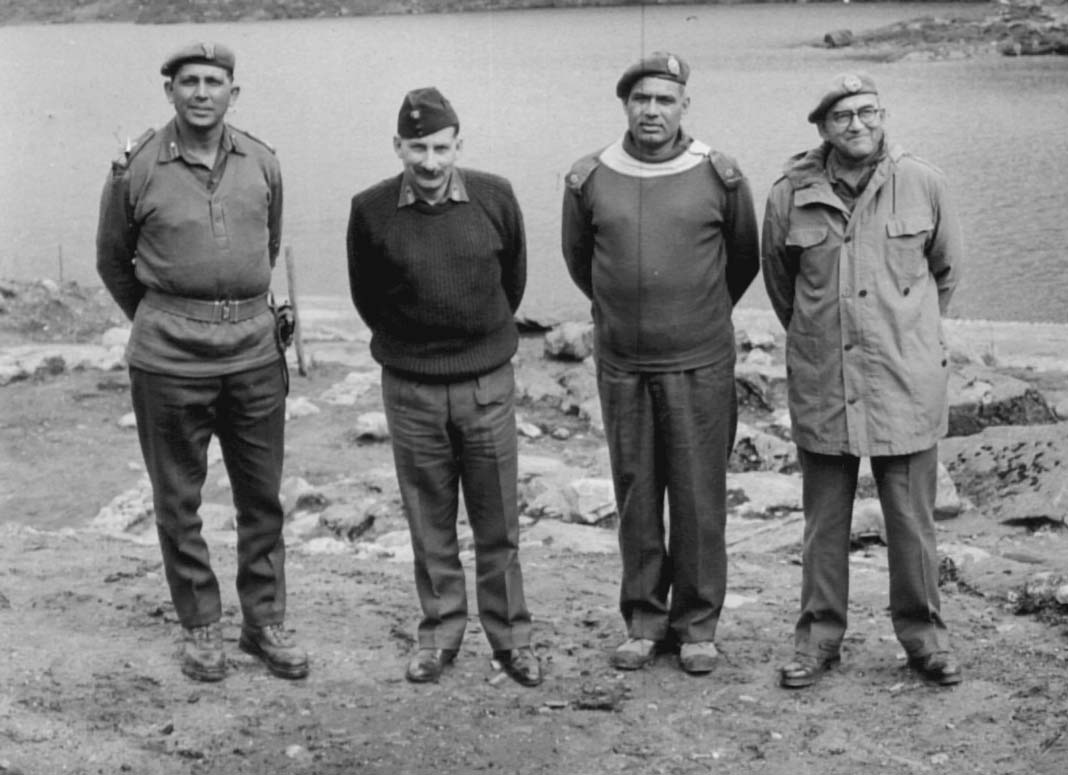 The Indian Army retained Eustace D'Souza at Nathu La for a period of three years thereafter & as a acknowledgement of his military leadership, gave him charge of the famous Black Cat brigade based in Changu which is tasked with protecting the East Sikkim border. Eustace was later given command of the prestigious Dagger Division based in Baramulla, Kashmir. During the 1971 Indo Pak war he was in charge of the entire border covering Uri-Lipa Valley-Kupwara-Tangdhar axis. He was awarded the Para Vishishst Seva Medal for "distinguished service of the most exceptional order" for his contribution to the war effort against Pakistan. He retired from the Army in 1975 as the General Officer Commanding, Delhi. He remained Colonel of the Maratha Light Infantry even after retirement, till 1978. Eustace was born in Karachi and brought up in Bandra. He schooled at St Stanislaus on Hill Road and later studied at St Xavier's College near VT. At the ripe old age of 91, he died in 2013.
Vikram D'Souza