The city's first Food Truck Park was launched on the 14th of July and situated in our very own, Bandra. The Mumbai Food Truck Park, a unique concept, started off it's journey in a space behind Anthony's Garage; with 10 trucks that were cooking and serving food to curious customers who walked in. A fresh concept with a unique USP. A thought that may have crossed your mind, why did the park shut down soon?
Brihanmumbai Municipal Corporation (BMC) authorities confirmed that the Bombay Food Truck Company did not have the necessary permissions required to run the place. The company had not acquired any permission from the H-West ward, to run the Park. Perry Road Residents' Association were completely against this concept as they did not want any commercial activity in their area. They filed a complaint with the BMC chief, transport commissioner, police commissioner and MLA Adv. Ashish Shelar. The narrow road leading to Anthony's Garage is usually congested due to vehicles travelling in both directions. The addition of the Food Truck Park would only make matters worse.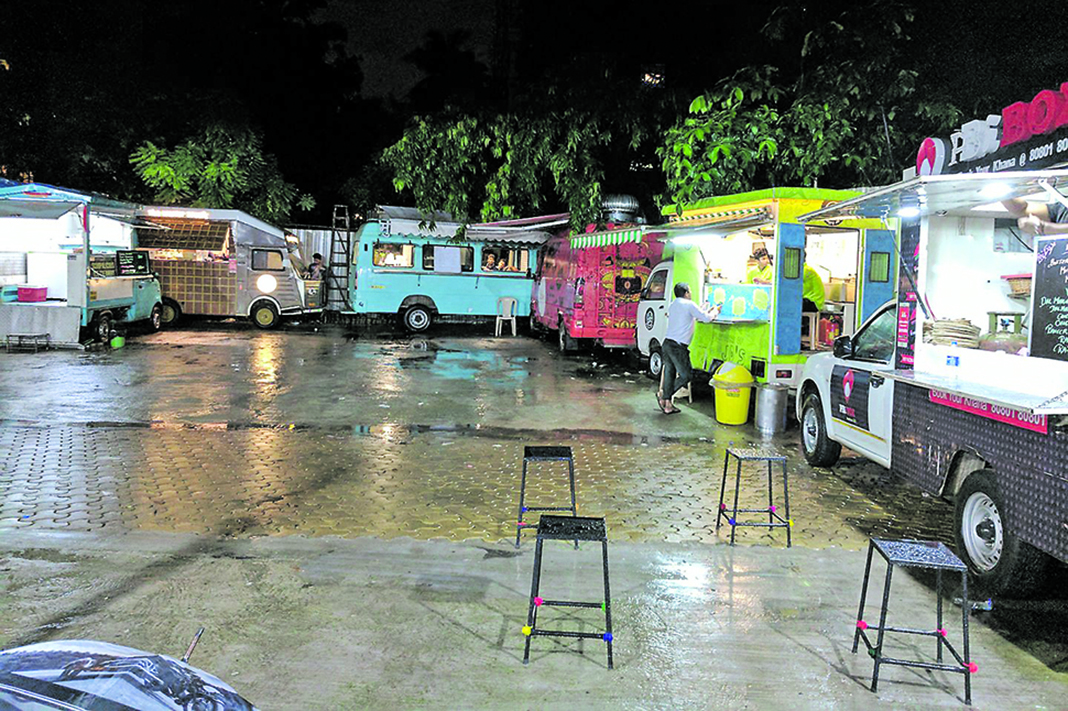 We got in touch with Mr. Anil Joseph, chairman of the Perry Road Residents' Association, who was glad to speak to us about the inconvenience that would have been caused to the residents of Perry Road. "If you know, Bandra was planned as per Town Planning Scheme. The Town Planning Scheme meant that there were were different areas demarcated for markets, open spaces, commercial areas and fully residential areas. Over the years, residential areas have been affected by commercialization", he says "one fine day, there were boards put up and a promo article in Mid-Day about the Food Truck Park. They said 12 food trucks were going to be parked behind Anthony's garage, where 10 cars used to be kept, now you have 12 trucks cooking, so in effect that is 12 kitchens amounting to 12 restaurants over there. This place on Saturdays and Sundays, the junction of St. Paul's Road, is terrible. The amount of traffic and vehicles is very uncoordinated. Parking would have been a serious issue, causing a lot of trouble to the residents of the area. Another thing is, they themselves have put up a sign saying 'No Parking Facility available here'."
Anil and the rest of the association have opposed commercialization in the H-West ward since 2012. An important fact they have noticed is, throughout the years, the maximum number of pubs and bars in the city of Mumbai is concentrated in the H-West ward. "Currently, the Motor Vehicles Act does not permit vehicles to serve as kitchens. You cannot cook in a car", said Anil, "even though the concept is new, with a little bit of Facebook & Twitter, eventually what they're doing is hawking in a more sophisticated manner since they don't have permission." The idea of a Food Truck Park works abroad and in the west, since they do not have the number of hawkers we have, he said. Commercialization of any area, should be as per the needs of the residents. If the needs of the people residing in that area are met, then there is no further requirement of commercial shops or hawkers.
We reached out to Roysten Misquitta for his take on the matter, however, he was unavailable. However he was quoted on a popular website, "We've finally wrangled all the permissions, so we're here to stay," he says—after a fashion. The trucks will change every three months or so, and he says some are driving in from as far afield as Gujarat, by all accounts the laboratory of India's food truck fads.
Nayan Sreenivasan