Based in Mumbai, this accomplished and artful make-up artist has worked on different make up looks for a diverse demographic, ranging from aspiring models, to socialites and working women alike. With a focus on conscious cosmetics, she likes to provide her discerning clientele with the opportunity to maximize their "look good, feel fantastic" quotient through either a simple touch-up or a full-blown makeover. Madhuri Thadani gave us an insight into what she loves about make-up, what drives her, a sneak peek into the new buzzing salon in town: Madhuri's Signature Make up Studio, Hair Salon, Skin & Spa Zone & Total Make over Kiosk.
What is your make-up mantra?
The art of transformation is one that is truly encapsulated in the work of a make-up artist. From sculpting and contouring to adding youthfulness and sophistication, the ability of makeup artistry for me has no boundaries. Make-up is technically magic! A blend of right techniques, right products and correct tools can transform you into a diva or a celebrity.
What is an important piece of beauty advice you have for women?
Take time out to treat yourself well. This advice holds as much importance for men. Your skin needs more than just a splash of water. Invest in regular detoxifying facials and massages, given Mumbai's stress levels, pollution, humidity and grime. Above all, eat wisely, drink plenty of water and get enough rest.
What are the types of make-up you specialize in?
My style of make-up is perfectly blended foundation that looks like your second skin. The Bride, The Red Carpet, Party Girl and The Chisel are some of the transformations I love working on. I also specialize in weddings, receptions, engagements, sangeets and cocktails. I super-specialize in Punjabi and Sindhi weddings, Indian tradition & international bridal make-up.
What drives you to go to work every morning?
Would you believe me if I told you that make-up is my one and only love (laughs). I enjoy every single bit of it and seeing the beauty and transformation of a client at the end really satisfies me. That is more than enough for me to get to work every morning!
How did you get into the industry?
With my innate love for make-up and God-gifted ability, I couldn't imagine doing anything else. To further this passion & sharpen my skills, I was selected and attended a 45-day certification with internationally acclaimed make-up artists Donald Simmrock, Rebecca Doney, Tomas Moucka, Flavia Giuliodori & Kyana Nana at the BHI Makeup Academy. Their practical knowledge & technical mastery on everything was invaluable; for example, inspiration in make-up comes from everything – travel, culture, history and nature. This course & the subsequent advanced workshops set the stage for me to take the next step.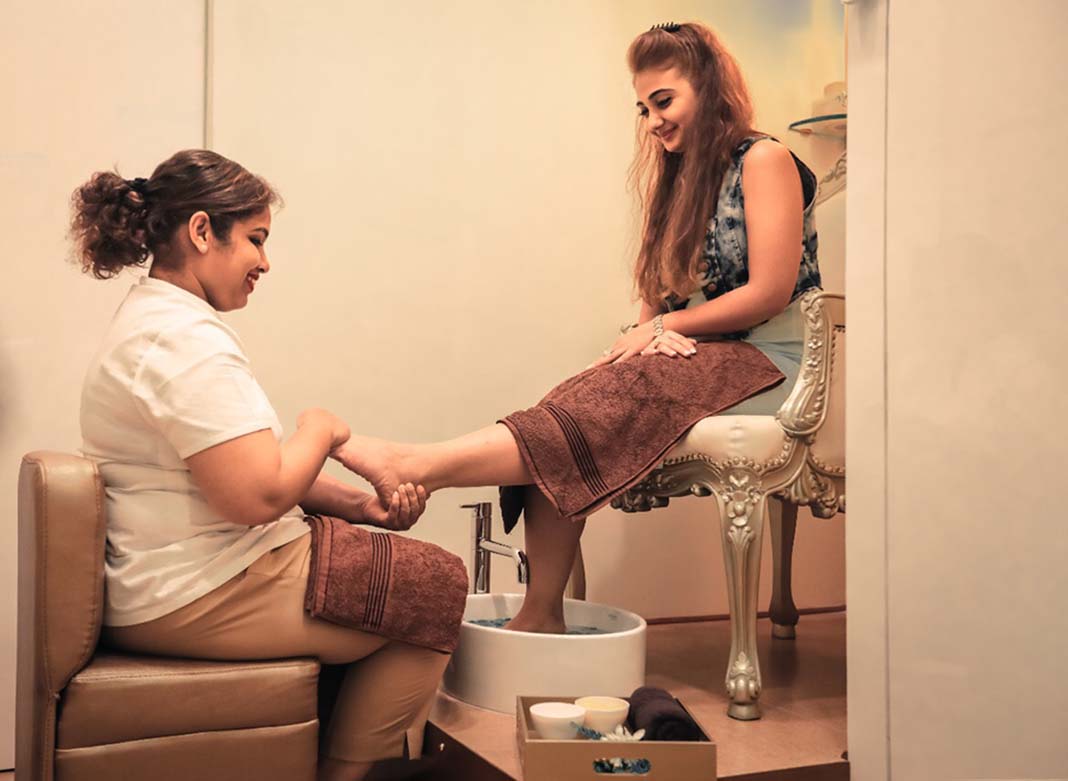 Tell us about your new make-up salon.
I'm very pleased with the opening of my new salon in Bandra which caters to both, men and women! Bandra for me is the epicenter where current trends amalgamate with diverse cultures. The services offered here maybe commonplace it may seem, after all, one can avail of a hair, beauty, or massage service at every sassy corner in Bandra. However, there is a marked luxury and pampering and focused care that you receive here, which will definitely inspire you to revisit. All hair services come with a complimentary make up consult and touch up. This is indeed a unique opportunity to experience a fun and memorable grooming session whilst your tresses are given the nourishing they need.
Downstairs, the pedicure area, serves as a multi-purpose zone where you can get a foot reflexology & massage, a head massage and a divinely de-stressing shoulder & neck massage. Both men & women will love these treatments after a long hard day at work or the gym. Notably this area is in a private zone, the perfect place to get the glow back into your complexion. Exclusively at Madhuri's, get a quick effective Korean Mask fitted on, and walk out feeling and looking like a star 30 minutes later. Classic facials & international standard body massages are also available in our well-appointed spa & beauty room. Worth mentioning are the pure, natural and organic products and oils, hand crafted by a certified aromatherapist (Aromagique), & gift hampers for the festive and wedding season that can be customized to your preference.
Madhuri's Signature Make up Studio, Hair Salon, Skin & Spa zone & Total Make over Kiosk is the new buzzing salon about town which proposes unique personalised solutions with an aim to sky rocket your confidence levels and the way you feel about yourself; whether you choose to enhance your natural loveliness, with deft but effective make up techniques, sassy hair looks, trendy nails, healthy skin that starts from within, truly therapeutic spa treatments or a total makeover.
Madhuri's Signature Make Up Salon & Spa
Shop no. 7, Darvesh Royale, opp. Kotak Mahindra Bank,
Turner Road, Bandra (W), Mumbai 400050
9167035000 / 9167045000 / 022 26400616 / 022 26400716
Valerian D'Costa