Disparity prevails as officials continue to turn a deaf ear to citizens' woes. "We need fresh air. Say NO to Metro", "No hate, no fear, Metro won't be here" and "Metro 2B must go underground" read the banners of aggrieved protestors who took to the streets to strictly condemn the elevated Metro 2B corridor. The protest on September 29, 2017, outside St. Teresa's Convent School in Santa Cruz and Bandra's Badi Masjid on S.V. Road came as a third bitter pill following former protests in August & September.
A rendition of placards and slogans by more than 300 students from St. Teresa's, Anjuman Islam, St. Stanislaus and Beacon High among other schools along with activists, residents & citizen groups' members demanded an underground network by severely reprehending the vanity project.
Metro 2B, a 26.3 km long line from DN Nagar in Andheri to Mandale in Mankhurd, is currently planned as an entirely over-ground system. The corridor with 22 stations has raised hackles as it could disable good roads by creating congestion and aggravating traffic. Residents are opposed to the Andheri-Bandra stretch which covers seven stations on S.V. Road. "In certain key areas like JVPD, Khar, Bandra, Santacruz and Vile Parle, where the density is extremely high, we do not have space for an elevated infrastructure," said architect Jaffer Jhaveri who jointly proposed an underground plan with Nitin Khillawala. "We simply want them to plan it in an underground fashion at least in places where elevation is not practically viable," added Jhaveri.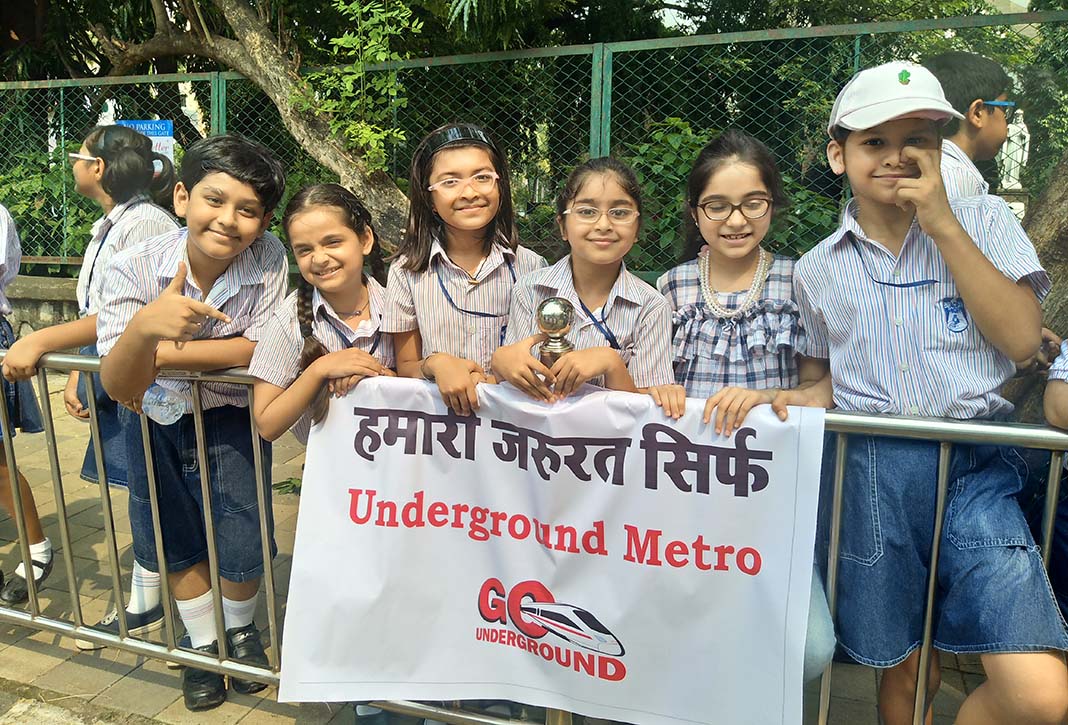 Connectivity is another point at issue. There is no seamless connectivity between the Western Suburbs (Metro line 2: Dahisar-DN Nagar-Mankhurd) and South Mumbai (Metro Line 3: Colaba-Seepz) as the section till Mahim is underground and the Metro 2B corridor, passing through Bandra, is elevated. According to the current plan, BKC is the only station that connects the airport on Metro line 3 to Metro line 2B, leaving rest of the stations thoroughly detached from both the airports.
Citizens see this project as yet another futile arrangement replacing existing skywalks and flyovers. Mani Patel (73), a resident of St. Martin's Road and a trustee of the H-West Citizen's Trust affirmed, "They (the government) are just misusing the funds. There is no planning. We paid a 100 crore for the skywalk. Now, they're going to use more funds to break the 100 crore infrastructure and replace it with another structure that will only increase congestion and exacerbate traffic. Even the trees on the sidewalks will have to be hacked." The Mumbai Metropolitan Region Development Authority (MMRDA) has estimated the total cost of Metro Line 2B at Rs. 10,980 crore. Project consultants from the Delhi Metro Rail Corporation (DMRC) suggest that the cost of an underground project is five times that of the elevated project and also more time consuming.
The numerous letters and petitions sent to Chief Minister Devendra Fadnavis still awaits a response. "The letter which I have written is forwarded to the Chief Secretary over a month ago with no reply so far," said Anandani Thakoor, chairperson of H-West Citizens' Federation. "We are going to file a PIL. We are waiting for the meeting on October 15," she added. In addition to the legal aid, a citizen group led by Ex. Municipal Councillor Rahebar Khan and present Municipal Councillor Mumtaz Rahebar Khan has by far secured 60,000 supporters for their signature campaign. Soaring discomfort has abetted citizens to mock the government's indifference towards important things in pursuit of some worthless grand ones.
Sharlene Lobo