For long now, Bandra has been the standard for the city's fashion fads. Moreover, the fashion hub has seen rich trends from the fusion of the variety of cultures this fashion-centric populace is known for.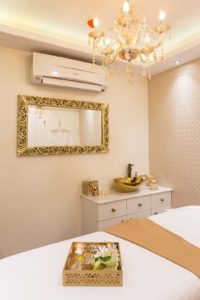 Located in the heart of this fashionable district is Madhuri and Ghena Thadani's Signature Make up Studio, Hair Salon, Skin & Spa zone & Total Make over Kiosk. According to this gifted and artistic duo, the art of transformation is one that is truly encapsulated in the work of a make-up artist and personal stylist. From sculpting and contouring to adding youthfulness and sophistication, the ability of makeup artistry & personal styling have no boundaries. And it is exactly this mantra that is reflected in their deft and minute work while they work with their clients. A few of the styles Madhuri specializes in are The Bride, Friday Night Soiree and Smoky Eyes.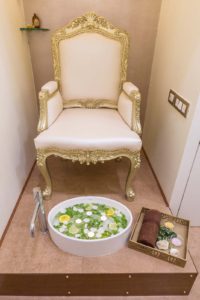 Besides, if you are a passionate beauty aficionado, and you love all things hair, makeup, skin care, nails and personal styling, then Madhuri's Signature Make up Studio, Hair Salon, Skin & Spa zone & Total Make over Kiosk promises to provide exciting, and cool new techniques to zest up your "look great" and "feel fantastic" quotient. Also, amalgamated into their concept is a one of a kind opportunity to consult and engage with owner-professional personal stylist Ghena Thadani, who is popularly known as a fashion diva herself and has been curating fashion trends for many a Bandraite, right from the college teen to the well-known names in the fashion circuit.
All these delicious offerings come plated up with a "High Tea Affair" only at Madhuri's Signature Make up Salon Spa. The High Tea Affair is a fantastic way for a group of ladies to bond. And by that, we don't only mean Smart Bond, Java and tea cakes. Effective make-up techniques, sassy hair looks, trendy nails, healthy skin that starts from within, truly therapeutic spa treatments or a total make-over, are all served up on the High Tea Affair menu.
In the words of Cyndi Lauper, 'girls just wanna have fun' and what better way than to bond at the High Tea Affair!
Book your High Tea Affair at + 9167035000 / 022 26400716 / 022 26400616
Madhuri Signature Make up Salon & Spa
Shop no. 7, Darvesh Royale building, opp. Kotak Mahindra Bank, Turner Road Bandra (W)
www.madhurismakeupsalon.com
Facebook: madhurismakeupsalon
E-mail: madhurismakeup@yahoo.com